Get Yourself a Bong, It's a Friend for Life!
When you invest in a glass bong, you want to be sure that it is reliable and will last for years. This can simply be achieved by getting one made of quality glass.
But a glass bong is so 80's, bro! Then try picking one up with glycerin coils. It may just be the best bong you have ever invested in. Cold and smooth hits await you.
There is no denying the water pipe or bong is one of the best methods to consume cannabis, but you will want to be sure that your weed is sitting in a strong bong that will last.
Welcome to Mav Glass! Mav Glass is a California based company that has been making quality bongs for years. Personally, my Mav Glass bong is my own goto toker.
However, there are many competitors that give them a run for their money. But quality bongs aren't always easily recognized. If you go now and search online, you'll find a ton to sift through.
So if you are busy and simply want to save some time, you really can't go wrong with a Mav Glass bong. Like me, I think you will love it.
Still not convinced? Keep reading…
Benefits of Maverick (Mav) Glass Bongs
If my introduction hasn't already convinced you to buy a Mav Glass Bong, here is a quick list of some of the top reasons why you should pick one up.
Top Benefits of Maverick Glass Bongs:
Feature Rich
Quality Made
Aesthetic
The first thing you'll notice about Mav Glass bongs is that the look and overall aesthetics stand out from your run of the mill glass bong.
And when you get to hold one and fire it up for the first time, it really feels different. You could compare it to the difference between a Ferrari versus a Honda.
Benefits aside, everything nice comes at a price. Maverick Glass bongs can get up there in cost. That said, if quality is something you want, it is worth the investment.
But If Mav Glass is not to your liking or you would like something just as good or debatably even better, let's take a quick look at some tough competition.
Who is Mav Glass' Biggest Competitor?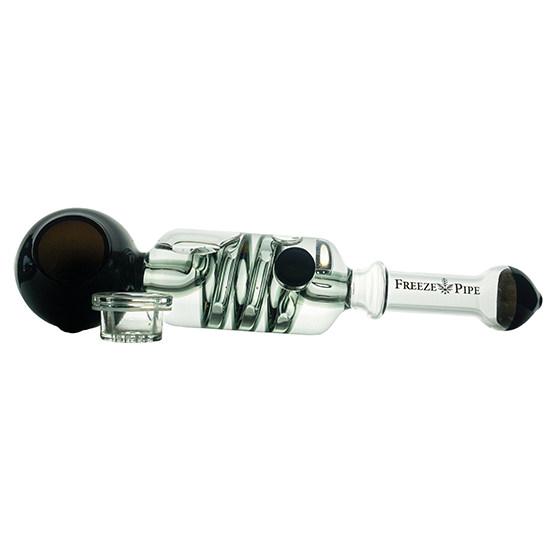 There is a ton of competition out there in the glass bong space but some products stand out more than others. If you're in the market, you should search online to check out what's out there.
For example, one of our personal favorite competitors to Maverick Glass is Freeze Pipe. In particular, we are huge fans of their Freeze Pipe glass hand pipe.
The Freeze Pipe is a glass hand pipe featuring a freezable glycerin coil. When smoke passes through the frozen chamber it's quickly cooled resulting in a noticeably smooth and clean toke.
All you have to do is pop your Freeze Pipe in the freezer for about an hour and it will be ready to rip. I have personally been able to take much larger hits without getting a scratchy throat using one.
That being said, Mav Glass is hard to beat. I still love my Mav Glass bong the most (have had it for years) but I've been using my Freeze Pipe more often these days, especially when friends visit.
But yeah, it's worth checking out what is out there. Like any technology, bongs have also taken many leaps and bounds over the years. Marijuana enjoyment has been leveled up!
The Bottom Line
Pack a Mav Glass bong with cannabis (https://species.wikimedia.org/wiki/Cannabis) and enjoy the rip. Mav Glass has got your back. If quality is what you seek, their bongs are top notch.
But if you're not in a place to break the bank on a new bong, an alternative might be just what the marijuana doctor ordered. Currently, Freeze Pipe is our second top pick.
All in all, you can't go wrong with either brand but Mav Glass has our top stamp of approval. Take the plunge, you won't be disappointed.